Experimentation. Interdisciplinary. Collaboration.

Events
EARS Student Group x Escuela Nacional De Estudios Superiores Unidad Morellia
November 20-22, 2020
From November 20th to the 22nd, the EARS Student Group hosted a virtual songwriting camp in collaboration with Escuela Nacional De Estudios Superiores Unidad Morellia. The event resulted in an attendance of 50 students with a total of eight groups. Starting on Friday, students exercised their creativity and team-building skills to write, produce, mix, and master eight innovative tracks before Sunday morning. 
Click HERE to listen to the final drafts
Basic and Advanced Copyright Concepts
November 16, 2020
On November 16th, Jack Adams provided the EARS Student Group with an information session at 5:30 pm via Zoom focusing on basic and advanaced copyright concepts and other things pertaining to intellectual property. As mentioned by veteran music lawyer Donald S. Passman, "when you own your copyright, it's like playing Monopoly and owning all the properties on the board." This event was perfect for musical songwriters interested in acquiring complete ownership of their songs. Not only did students acquire a well-rounded understanding of what copyright is and how it works, but they were also given resources to help them properly copyright their songs. There were 9 EARS Student Group members who attended this event. 
Click HERE to watch the research presentation.
Live Shows
November 9, 2020
On November 9th, Jack Adams provided the EARS Student Group with an information session at 5:30 pm via Zoom about playing live shows before, during and after the 2020 global pandemic. This information session included things like performance contracts, parking lot shows, live streaming, and logistics behind playing live shows successfully in 2020. This as the second step (of three) to defeating the tour game as independent musicians. There were 9 EARS Students Group Memebers that attended this information session.  
Click HERE to watch the research presentation.
Booking and Promotion
November 2, 2020
On November 2nd, Jack Adams provided the EARS Student Group with an information session at 5:30 pm via Zoom about booking and promotion. While doing live (in person) shows is not currently the norm, knowing how to effectively book and promote your shows is a necessary step to dominating the tour game (post COVID-19 pandemic). There were 11 members of the EARS Student Group who attended this event.
Click HERE to watch the research presentation.
Virtual  Songwriting Camp
June 5-12, 2020
The June 5th virtual songwriting camp marked the final songwriting camp of the 2020 Spring Quarter and the new EARS executive board for the coming year was officially introduced. This songwriting camp following similar regulation as the May 1st songwriting camp by separating students into three randomized groups via Zoom and alotting a 2-hour time frame for students to finish a rough draft of their work.
Click HERE to listen to the final drafts
May 1-8, 2020
EARS at UCR took on a new challenge during the 2020 COVID-19 Pandemic by hosting virtual songwriting camps through the video communication platform, Zoom. Participants were separated into three groups and were given exactly two hours to create a body of work. This virtual songwriting camp proved to be extremely successful and may be the key to keeping EARS alive in the coming months while students are social distancing.
Click HERE to listen to the final drafts
Winter & Spring 2020
Audio Recording and Production (MUS 023), Concert Production (MUS 257), and Songwriting (MUS 144) taught in EARS
Bradley Butterworth offers a variety of courses at UCR which utilize the recording and mixing capabilities of EARS. His Audio Recording and Production (MUS023) course focuses on tracking, mixing, and mastering music performed by UCR students. Students will learn from the ground up, how to set up a recording studio, how to properly set mics and record live instruments, and how to mix and master a project using a digital audio workstation.
Bradley also teaches Concert Production (MUS257) at the EARS facility. This course is designed to train students to become live sound engineers. The class involves a live concert and recording session during each meeting. The students from UCR provide the talent for the course, while the Concert Production class will run the live sound and record the concert for the band, providing a live recording to the group at the end of each session. Skills that will be developed include, setting up a PA system, mixing monitors for the band, setting mics, mixing front of house, eq and compression settings, and live recording and mixing in Pro Tools.
Songwriting (MUS144) is another course which takes place at EARS. Students will be writing and performing original compositions each week in class. This provides an opportunity for students to show their work to their peers, to make musical connections, and to provide and receive constructive feedback on their work. Each student will work on a number of smaller assignments focusing on topics covered in class that culminate in two complete compositions for the Mid-Term and Final Projects. Covering the topics of rhythm, melody, popular chord progressions, lyric writing, improvisation, and music production, Songwriting offers beginners and advanced musicians the opportunity to be creative and expressive in a welcoming, supportive environment. 
January 2020
Igor Kefalidis – New Works for Video and Electronics
January 31, 2020
Workshop: 6:30-7:30 P.M.
Concert: 8:00-9:30 P.M.
Prof. Igor Kefalidis, Russian composer and founder and director of the Moscow Tchaikovsky Conservatory Center for Electroacoustic Music (CEAMMC), presented his works for instrument, electronics and video.
January 2020
Cássia Carrascoza – New Sounds for Flute: Workshop and Concert
January 10, 2020
Workshop: 5:30-7:00 P.M.
Concert: 8:00-9:00 P.M.
Cássia Carrascoza, Professor of Flute at the University of São Paulo, Ribeirão Preto (Brazil) presented her research on extended techniques for flute and performed contemporary pieces for flute solo and flute and electronics.
December 2019
Embodied Sound
December 10, 2019
Progress in EARS's tactile-audio research led to a presentation of the technology for the Office of Technology Partnerships' Proof of Concept (POC) Grant fund. Our multidisciplinary team led by Dr. Paulo C Chagas, Ethan Castro, Valtteri Salomaki, and James Lin presented to over 30 entrepreneurs, investors, and UCR's intellectual property commercialization staff the advantages of our technology.
Fall 2019
Bach to the Future! 
Composers' Collective at UC Riverside held its first R'Comp Presents event of the academic year: Bach to the Future! They met at EARS on Thursday, November 21 at 6:30 pm to listen to all 24 J.S. Bach preludes and fugues from The Well-Tempered Clavier, Book I at the same time on 24-channel speakers, discuss counterpoint in several genres of music, hear more music by Bach, and watch Back to the Future.
Click here to find out more about the Composers' Collective at UCR.
November 2019
CYPHER event at NOWNET ARTS CONFERENCE 2019
November 8, 2019 8am
Ethan Castro and EARS Student Group members participate with Stanford's Scott Oshiro and Chris Chafe in an online improvisation event as part of the NOWNET ARTS CONFERENCE 2019 with participants from New York, Belgium, Scotland, Berlin, and many more!
May 2019
Scantron
Visiting Assistant Professor Bradley Butterworth presented a concert at EARS with his band Scantron.
Spring 2019
Audio Recording and Production (MUS 023) taught in EARS
EARS became a music production classroom for the first time with the help of Visiting Assistant Professor Bradley Butterworth. Bradley led a hands-on audio lab that taught students the ins-and-outs of Avid Pro Tools and how to properly engineer a recording session for differing instrumentations. The same quarter, Dr. Rene Lysloff directed Area 52, the UCR Music Department Laptop Ensemble, through experimental improvisation methods and indeterminate composition. In the 2019-2020 school year, EARS plans to maintain its forward momentum and dedication to introducing even more digital production courses, cultivating talented minds, and becoming a central hub for communal art creation in the Inland Empire.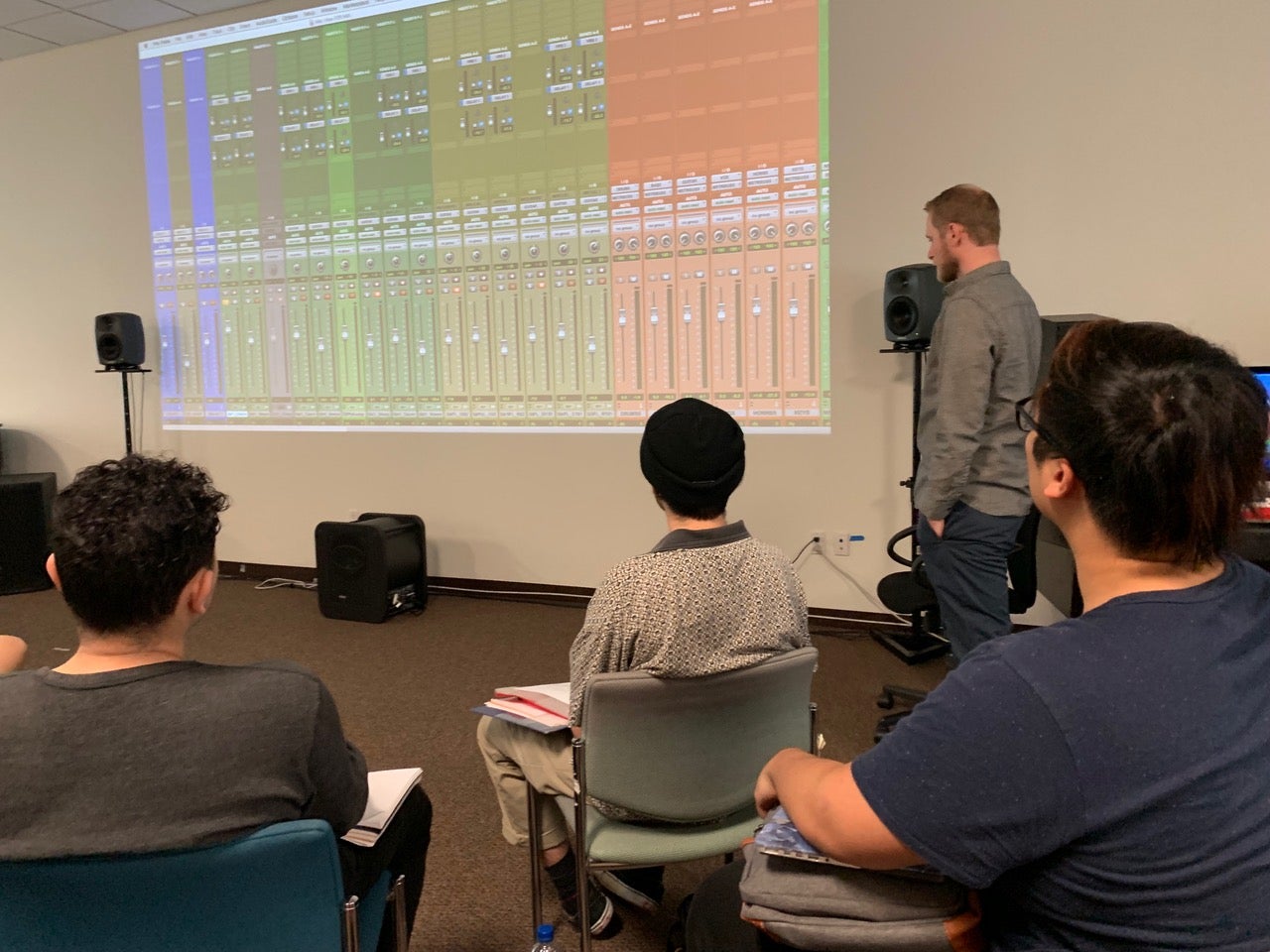 Winter 2019
R'Comp: Composers' Collective at UCR Events
EARS hosted a series of four events for R'Comp, the Composers' Collective at UCR that were dedicated to spreading knowledge and creating new content about historic musical trends - with a twist. The first event, Cereal, Serialism, and The Matrix combined intensive and technical lectures from student composers about the contemporary musical style from student composers with more light-hearted fare to bookend the event. The rest of the events throughout the quarter created many other creative outlets such as a comical podcast that chronicled the different styles and an unparalleled listening experience of Rachmaninoff's 24 Piano Preludes all at once using EARS'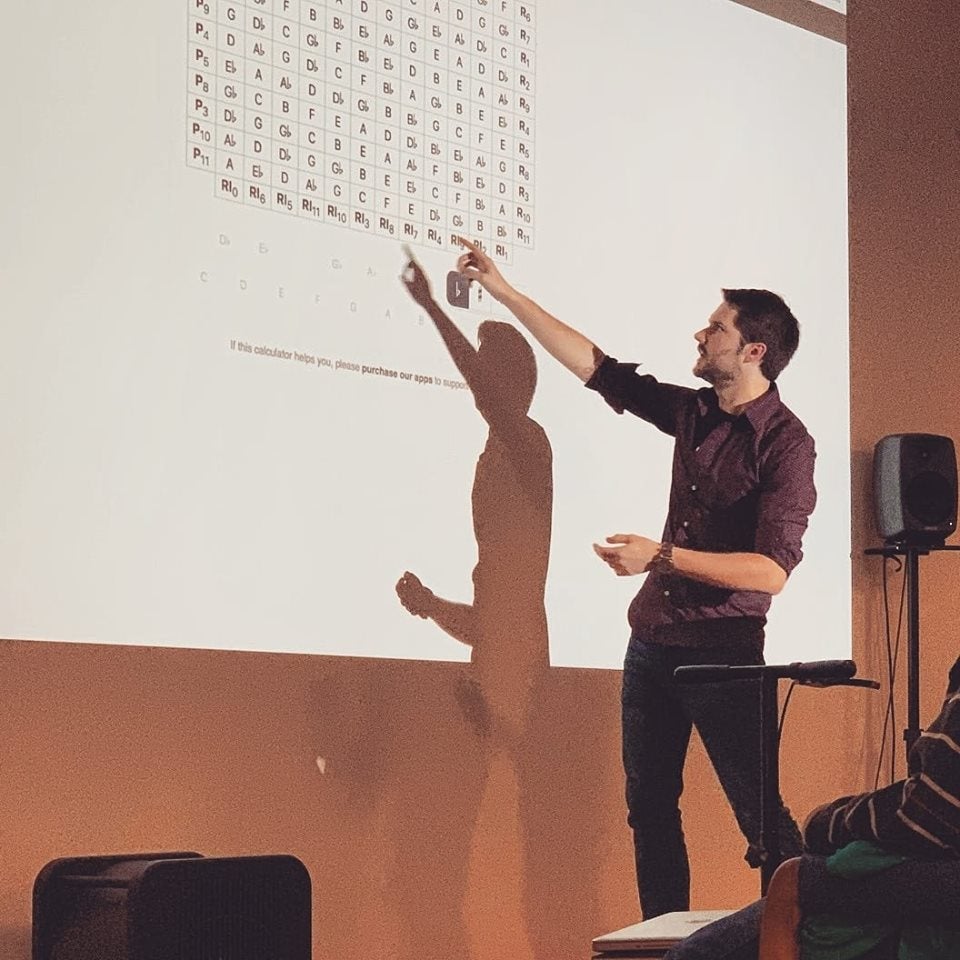 Fall 2018
Creation of the EARS Student Group
In Fall 2018, Music graduate students Ethan Castro and Christiaan Clark created the EARS Student Group to reach out further into the UCR campus. EARS now has nearly 40 diverse students and collaborators continually using the space and sharing fresh experiences every day while working on interdisciplinary projects. Ethan engineered a tactile stage that allows audiences to experience music while standing on a vibrating wooden platform. Christiaan Clark put a team of undergraduate composers together to explore new dynamic methods of music creation for video games, a traditionally nonlinear medium. Now one year old, the group continues to grow and explore new aspects of multimedia.
EARS Student Group Constitution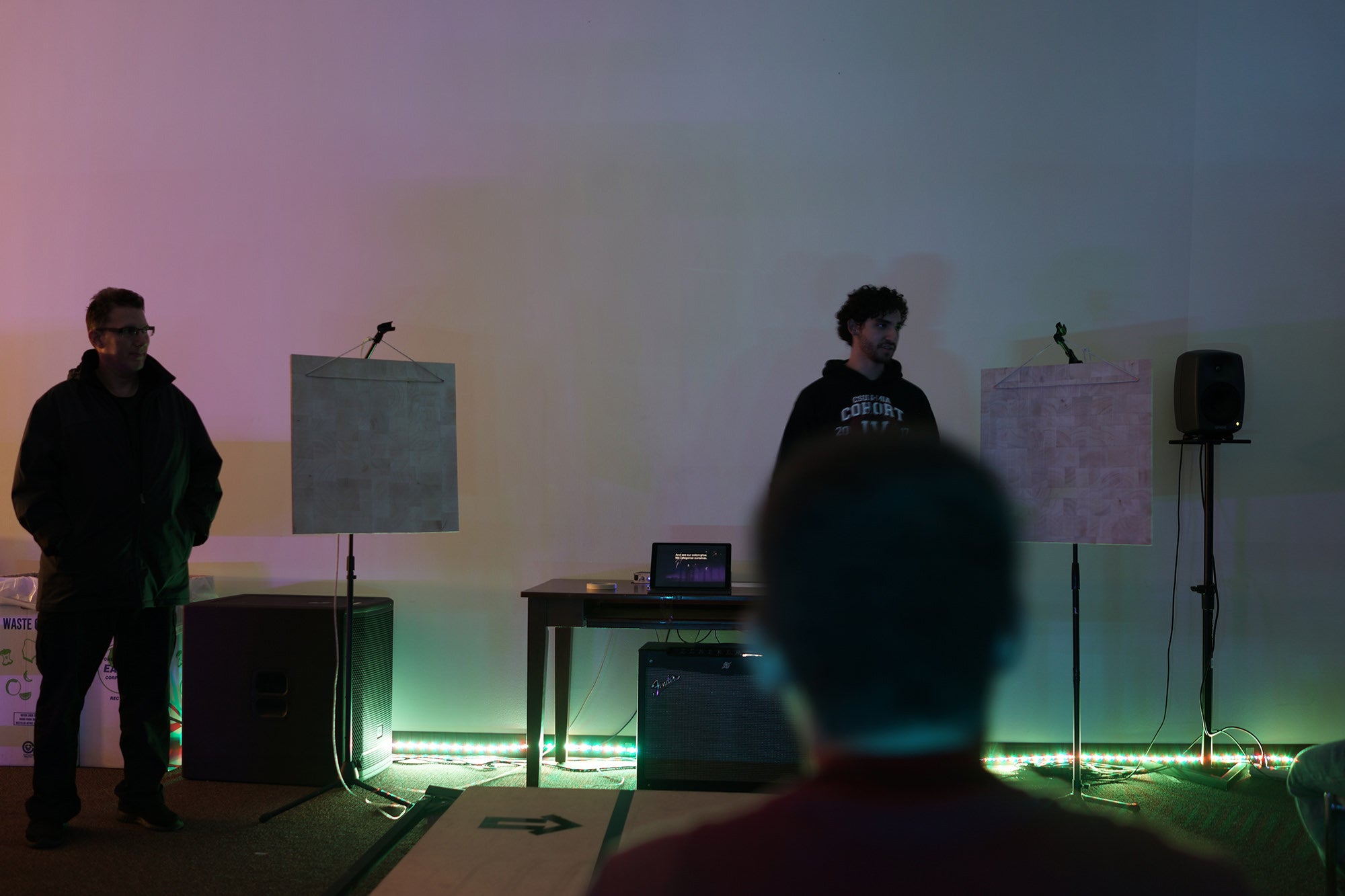 June 2018
EARS Showcase
June 8, 2018
EARS Showcase presented the premiere of Patrick Gibson's Three Études for Electric Guitar and Electronics along with music and audiovisual works created by undergraduate and graduate students at EARS.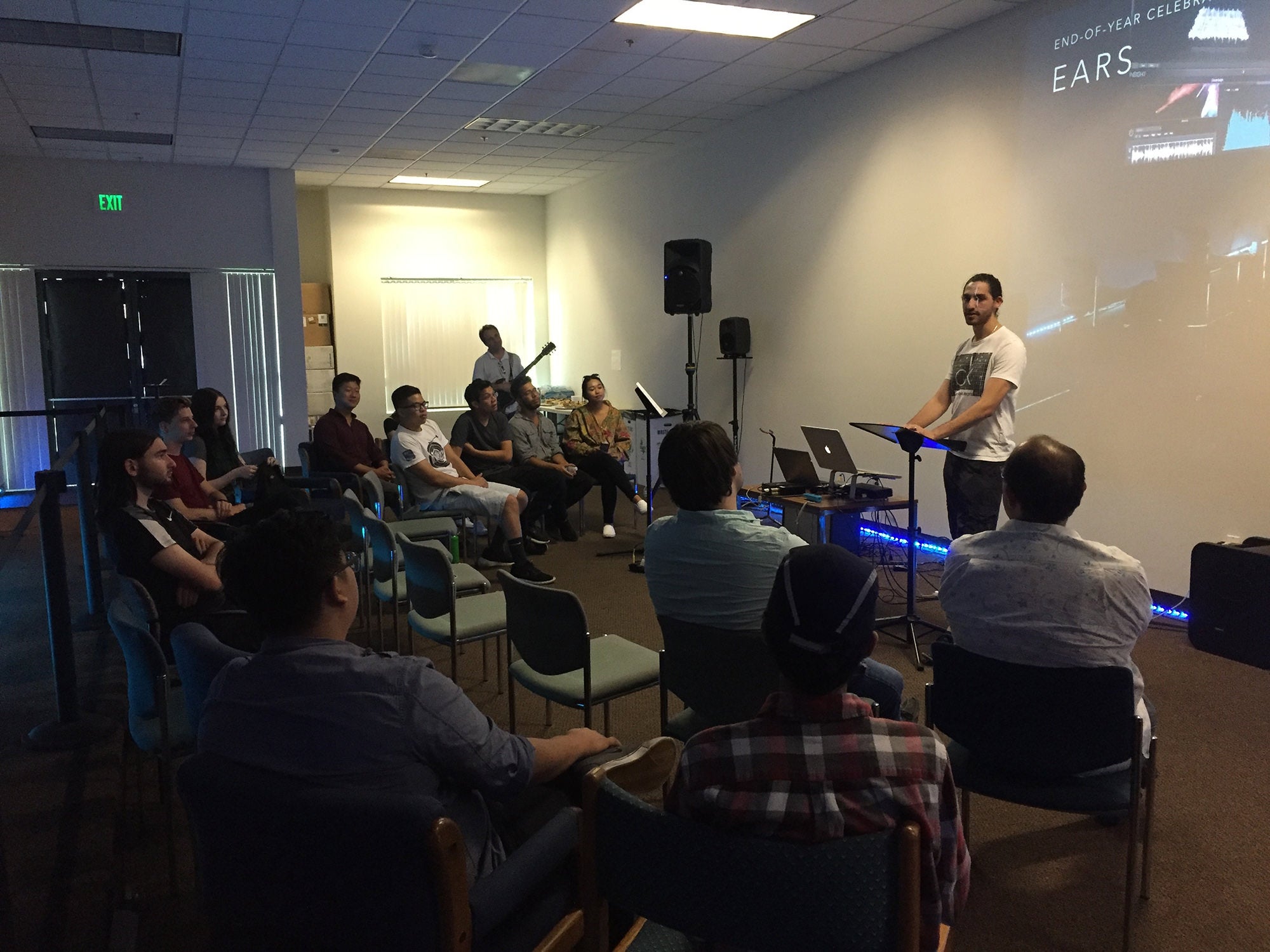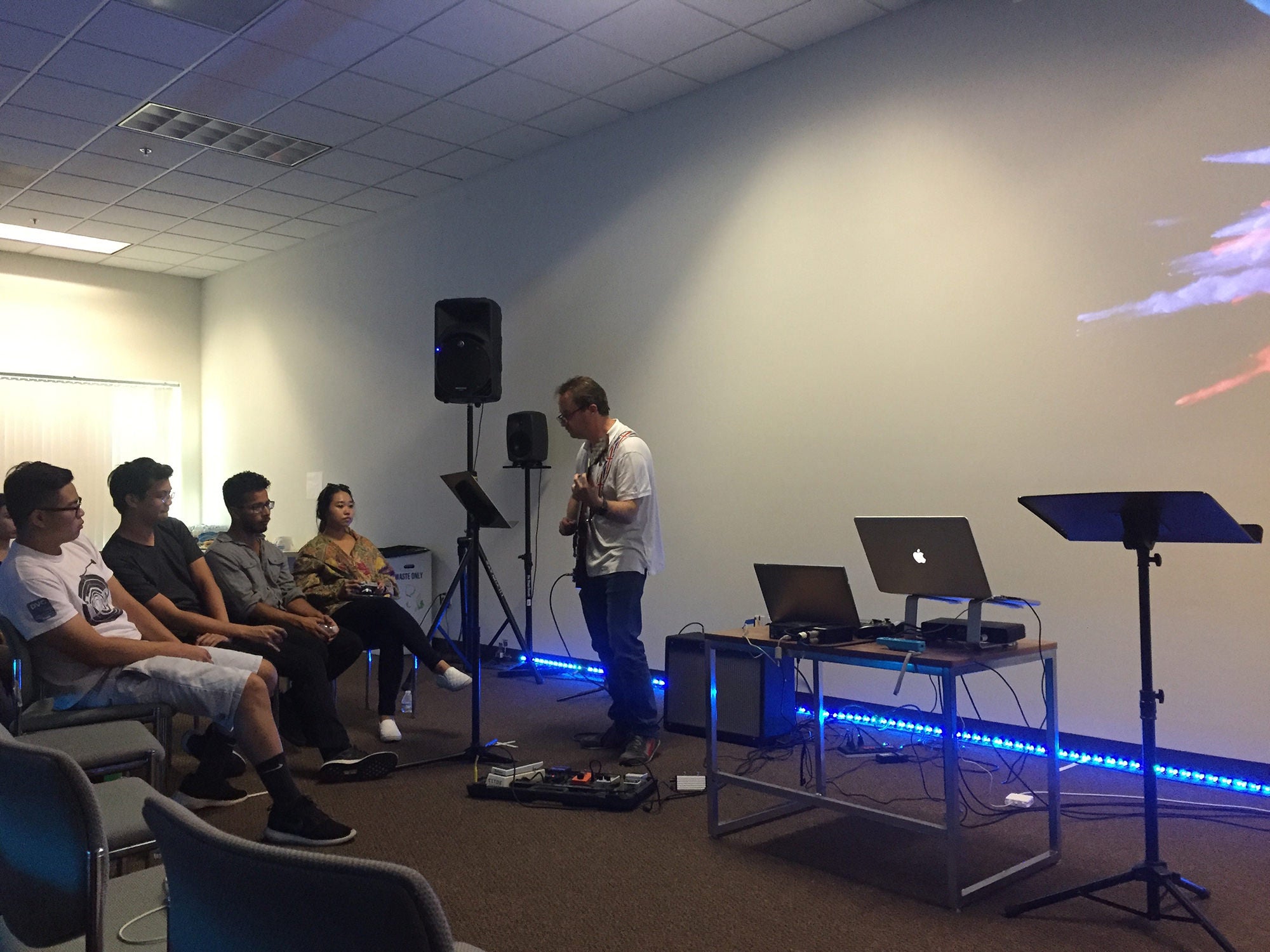 April 2018
Online Jammin'
April 21, 2018
"Online Jammin'" was a workshop on collaborative performance through the Internet with Chris Chafe and Scott Oshiro from Stanford University's CCRMA. Those in attendance learned how to create and perform music through the Internet, and taught open-source techniques for setting up audio links for collaborative research and performance. Participants performed live with musicians located in Santa Barbara and Palo Alto.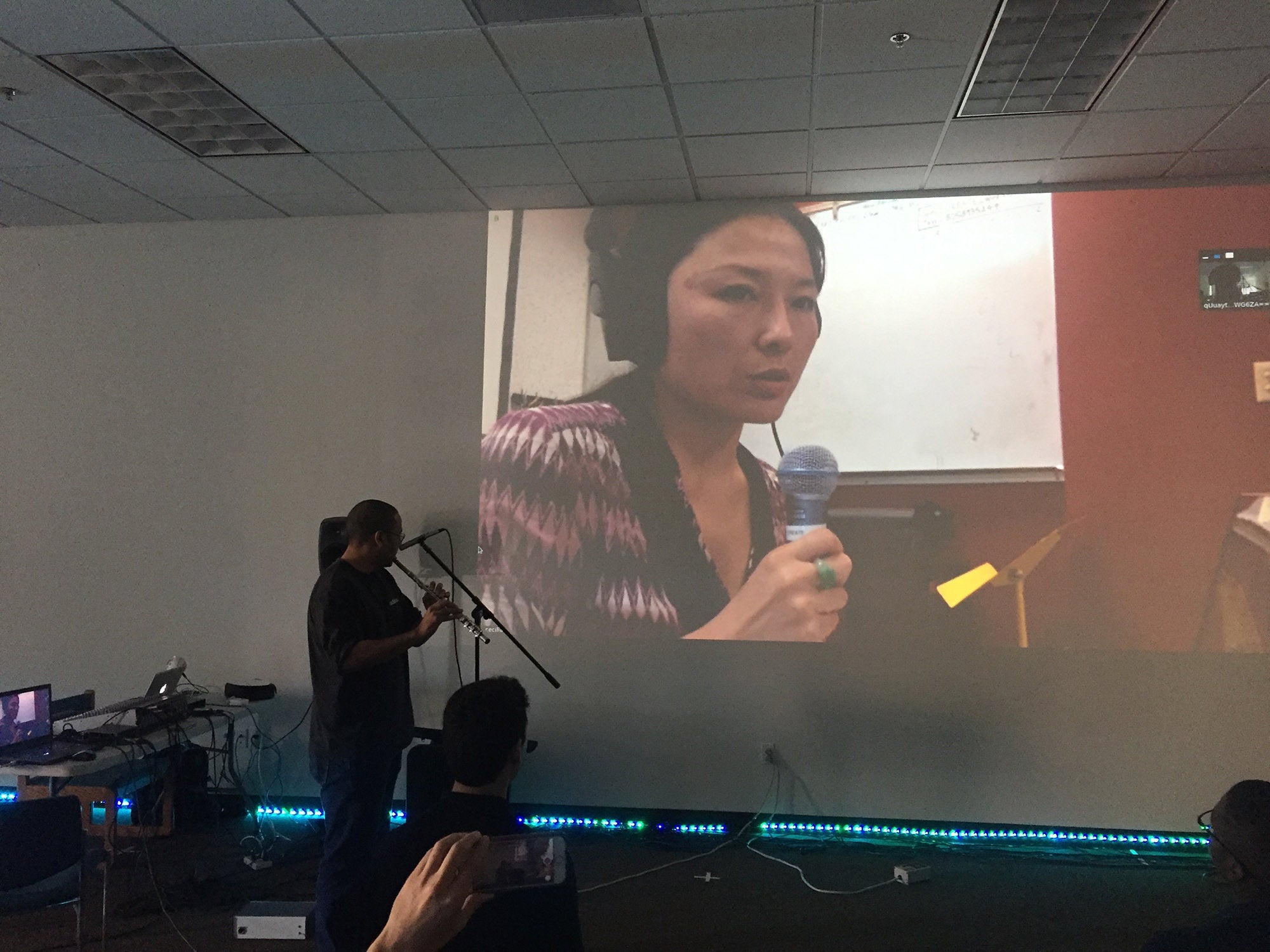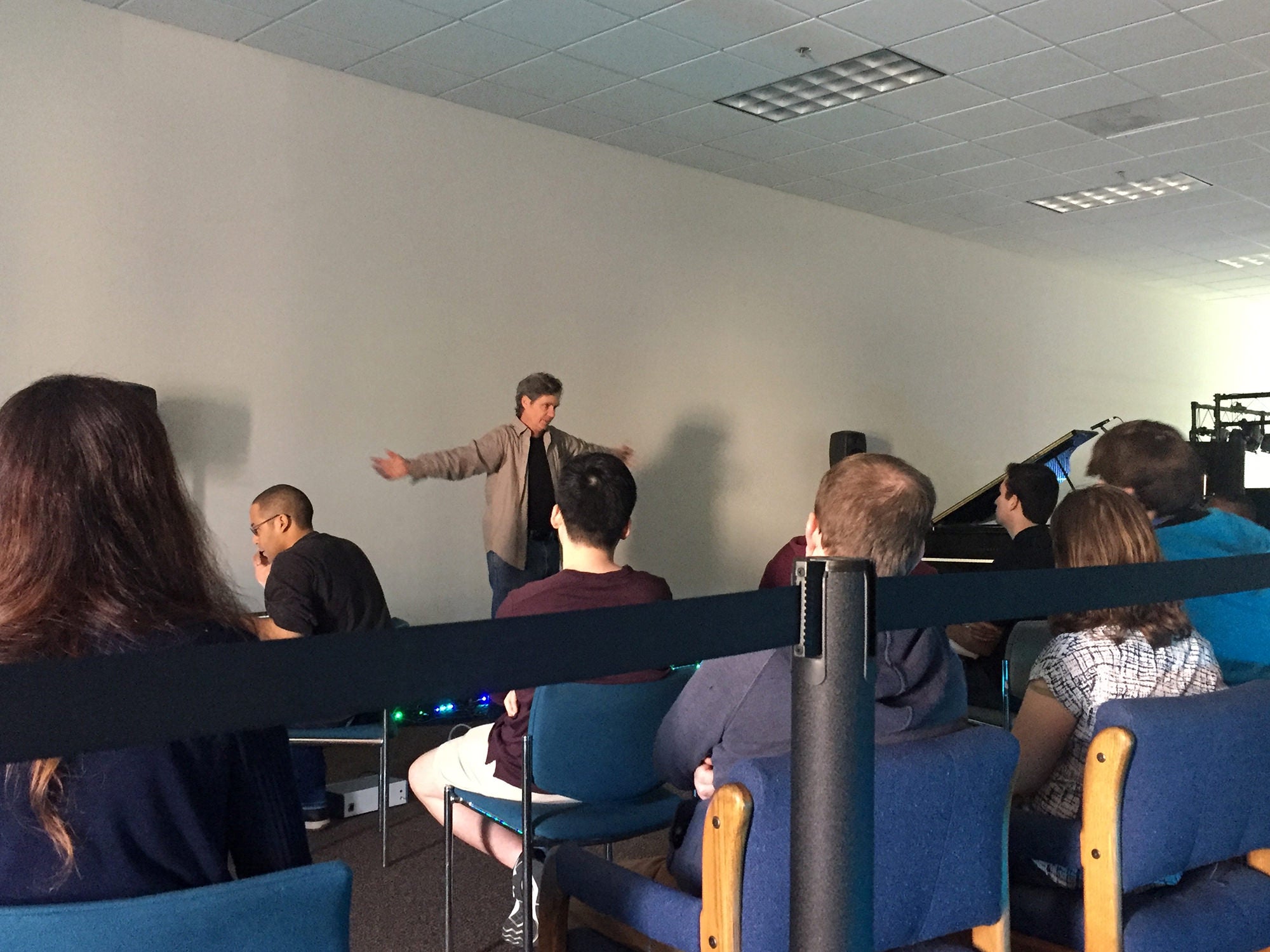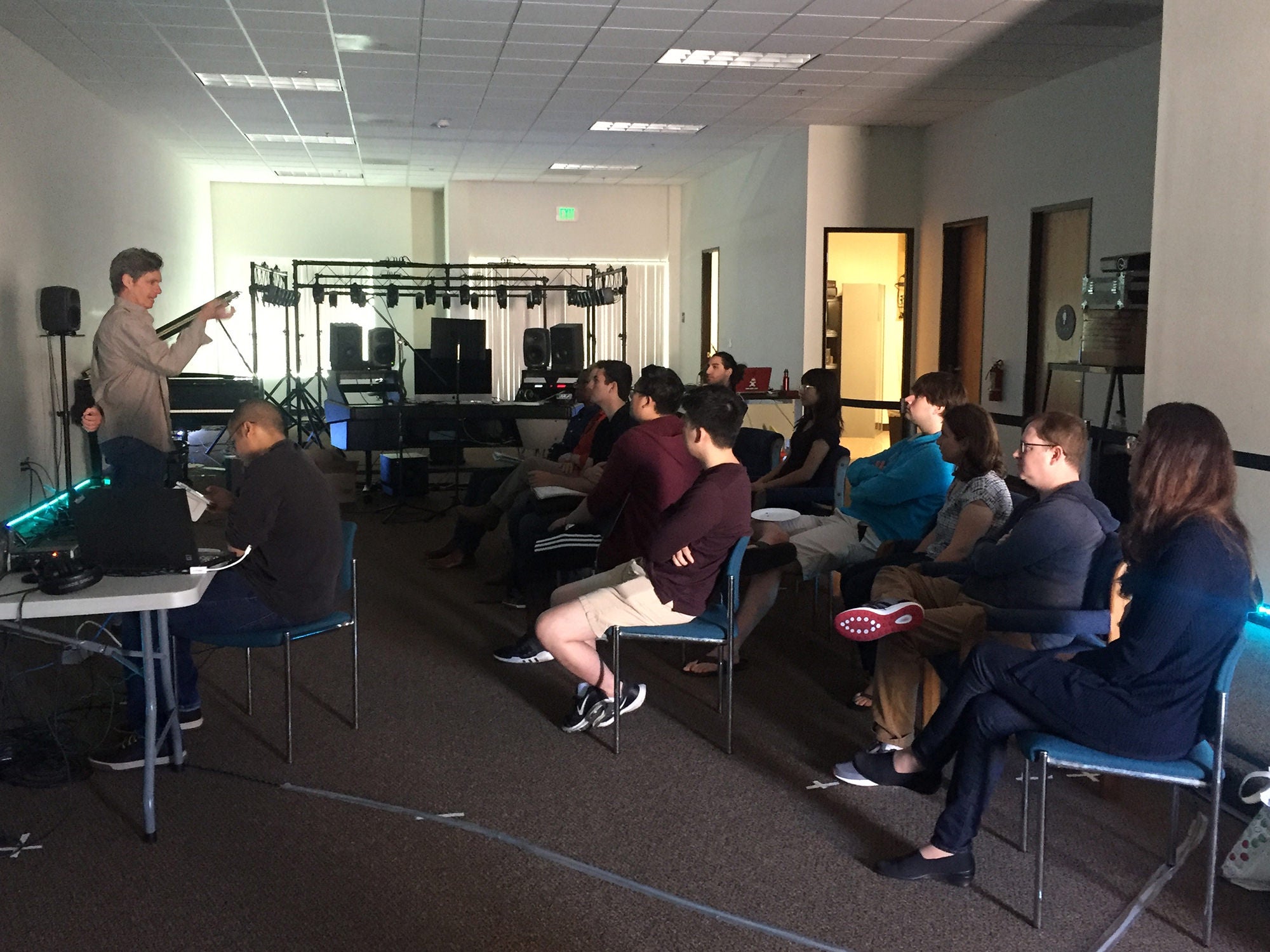 "Online Jammin'" was part of Paulo C. Chagas' project Intersections of Art, Technology & Society supported by the Center for Ideas and Society.
March 2018
JOY Songwriting Camp
March 9, 2018
The JOY Songwriting Camp brought producers and songwriters together to EARS once again to generate new songs in the style of hip-hop based on ten chilling short stories. These fictional narratives, brought to EARS by choreographer Joy Ndombeson (professionally known as "Justice Over Yourself"), included dark themes about underprivileged children in Fresno that the musicians had to channel in their lyrics. In just two days, more than ten ideas went from inception to completion for a possible future hip-hop dance show.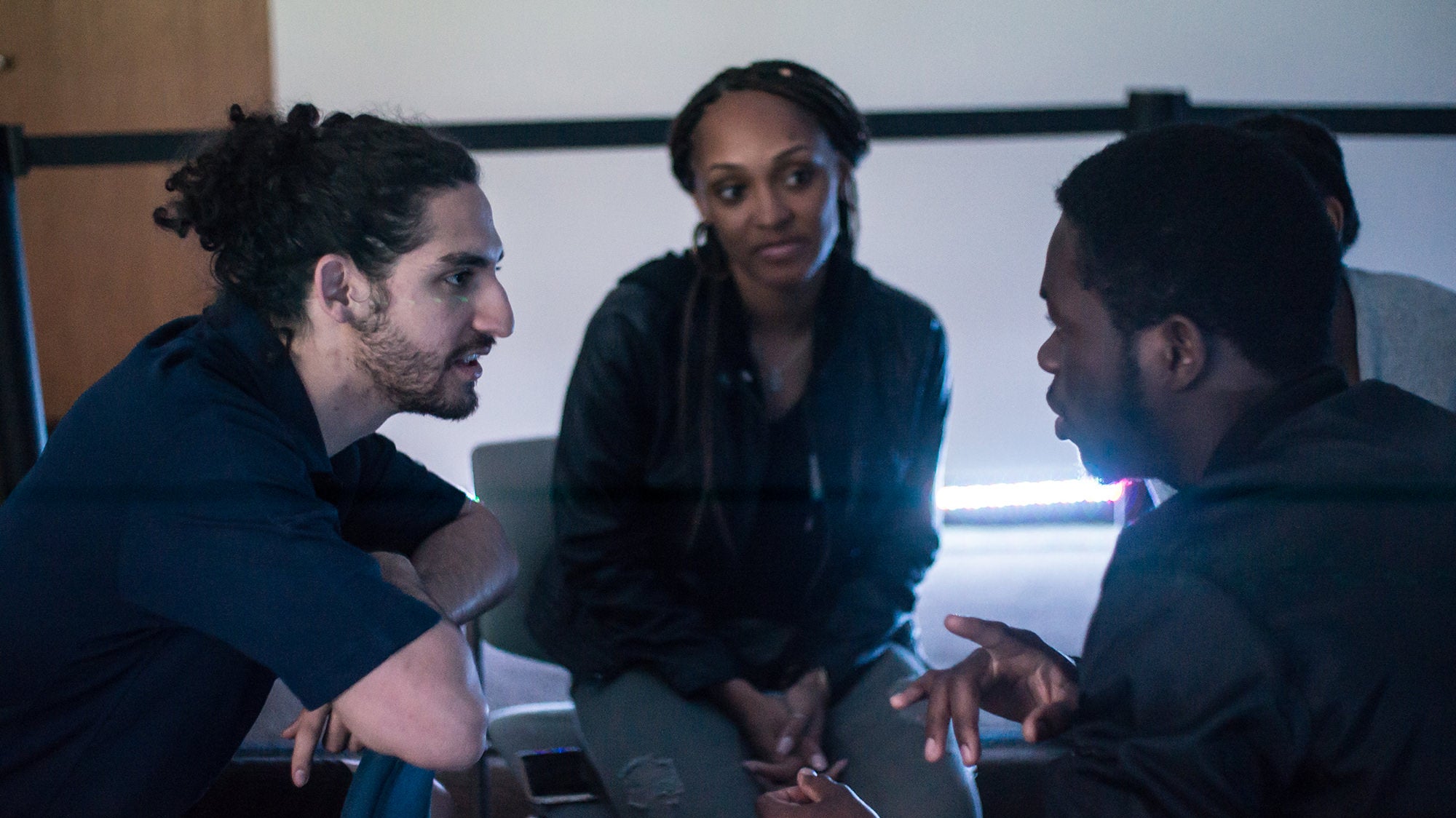 January 2018
ASYLUM Songwriting Camp
January 19-20, 2018
The ASYLUM Songwriting Camp brought 32 composers and music creatives from the University of California, Riverside, and the surrounding community together for two days of creative sharing and communal learning at EARS. Other producers and songwriters, all with diverse backgrounds and experiences, came all the way from Orange and Fresno Counties to join UCR composers for this event.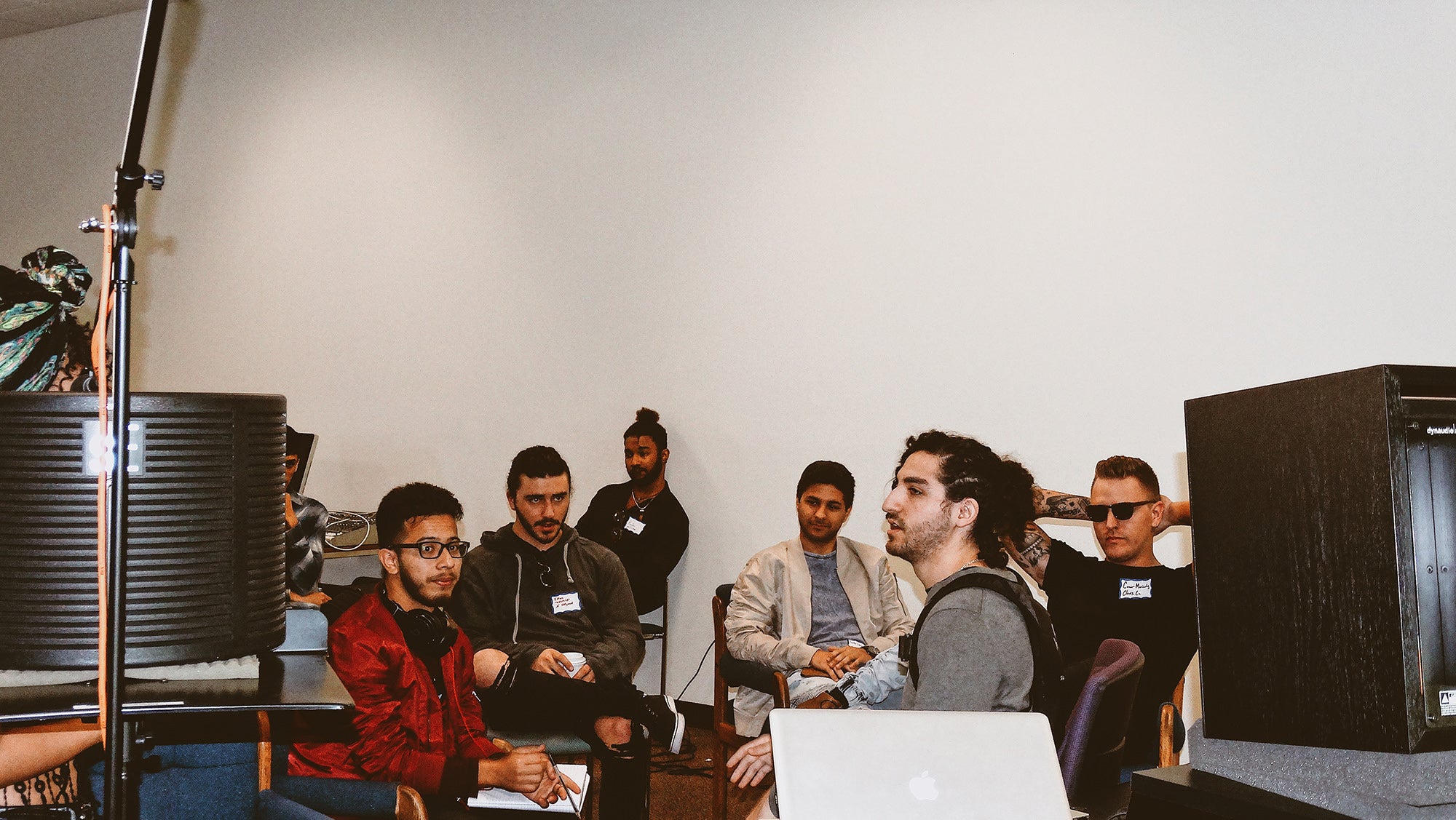 Spring 2017
Piano Recital with Electronics
June 16, 2017
Gary Barnett performed a recital of solo piano, and piano and electronics featuring contemporary composers living in the European Union. The same recital was taken on tour that summer throughout Europe and performed in Vienna, Zagreb, and Bucharest. Composers include Diana Rotaru (Romania), Doina Rotaru (Romania), Vladimir Bokes (Slovakia), Dana Probst (Vienna), Ana Szilagyi (Vienna), Ivo Josipovic (Croatia), Gerd Kuhr (Graz), and Paulo C. Chagas, among others.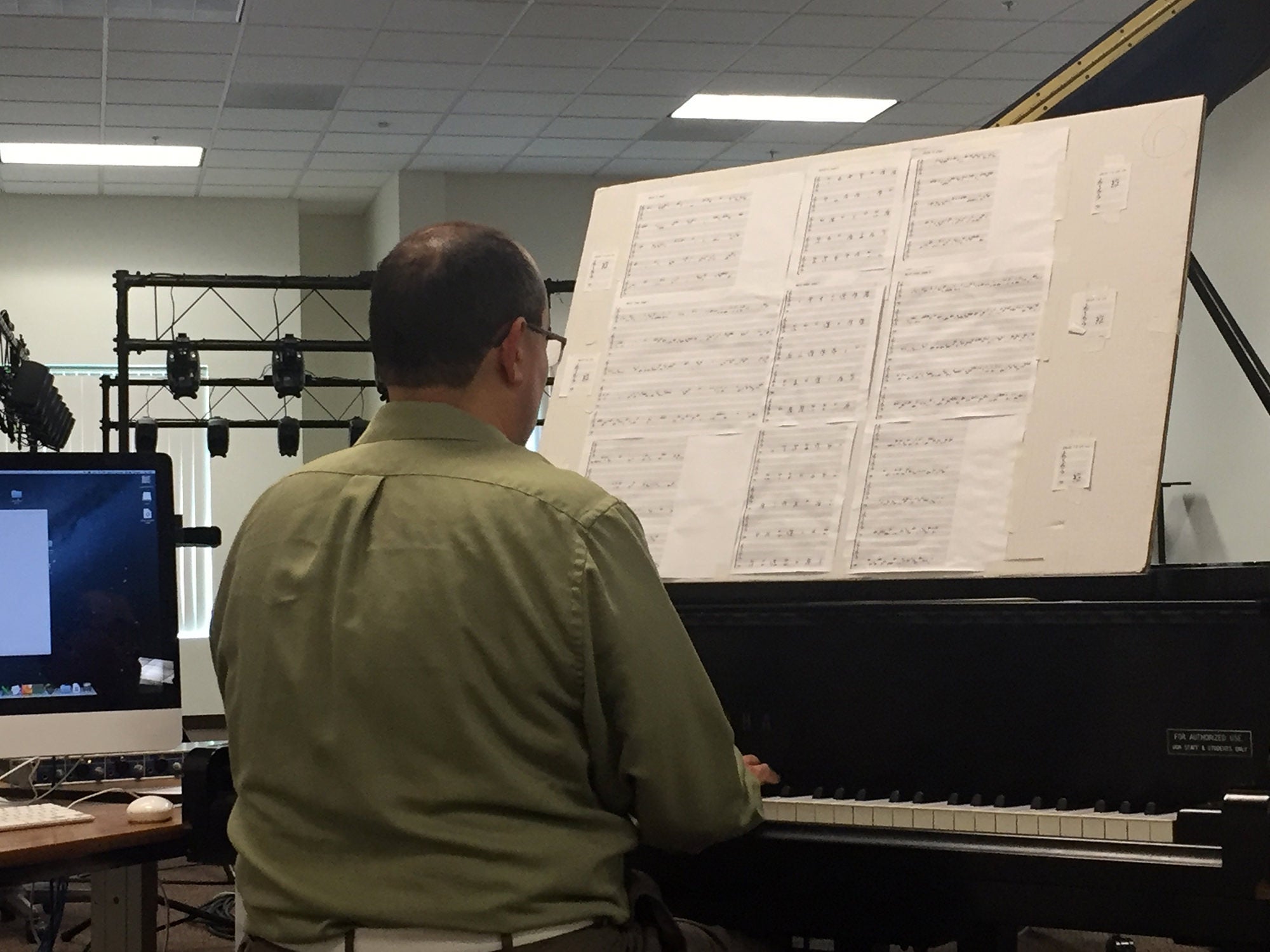 Winter 2017
Bertissolo & Sfoggia: Capoeira, Sound and Movement
February 2017
Brazilian composer Guilherme Bertissolo and Brazilian dancer Lia Sfoggia worked in February 2017 as artists and scholars in residence at EARS for the project, "Capoeira, Sound and Movement." Capoeira is a combination of dance and martial arts that has been developed in Brazil by West African slaves and its descendants and has been exported all over the world. Capoeira has a symbolic meaning as a practice of resistance and emancipation from social and cultural oppression (In 2014 it was granted the status of world cultural heritage by the UNESCO). Bertissolo & Sfoggia's are both Capoeira practitioners. Their work captures models of artistic creation emerging from poetic context of Capoeira, which illuminate significant aspects of Brazilian culture while establishing a broad artistic dialogue that includes also the critical reflection on digital audiovisual technology.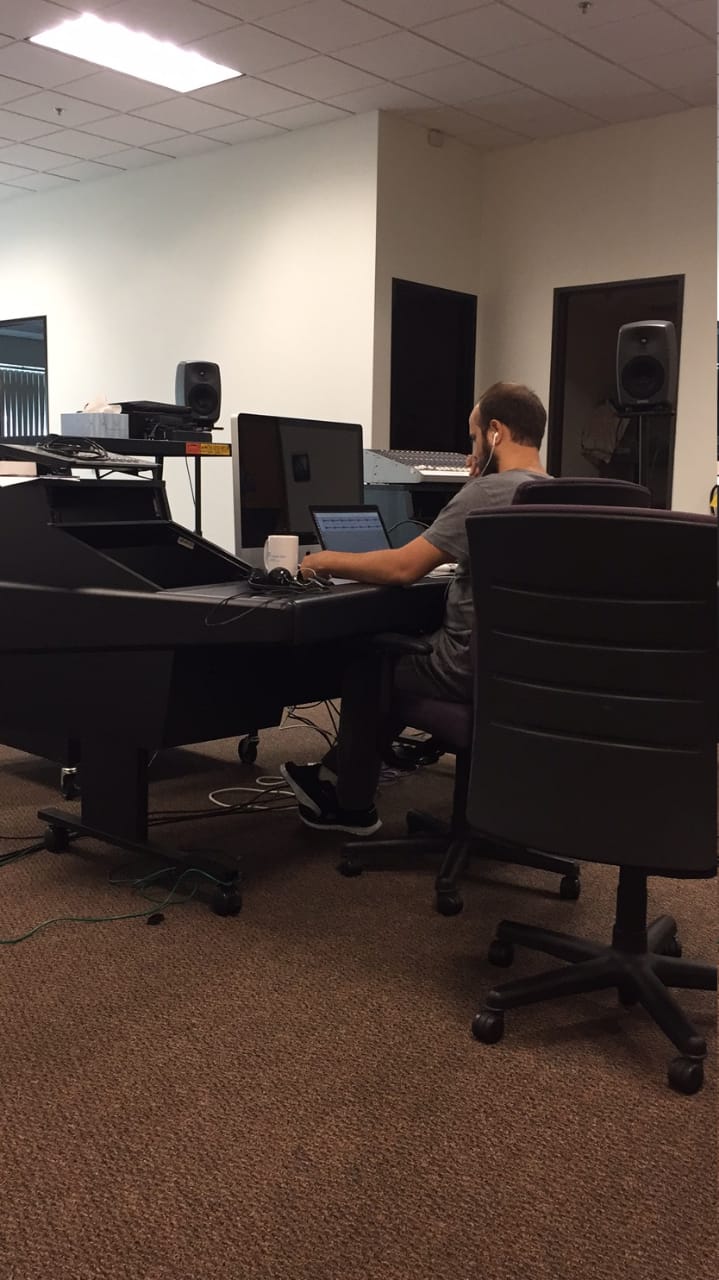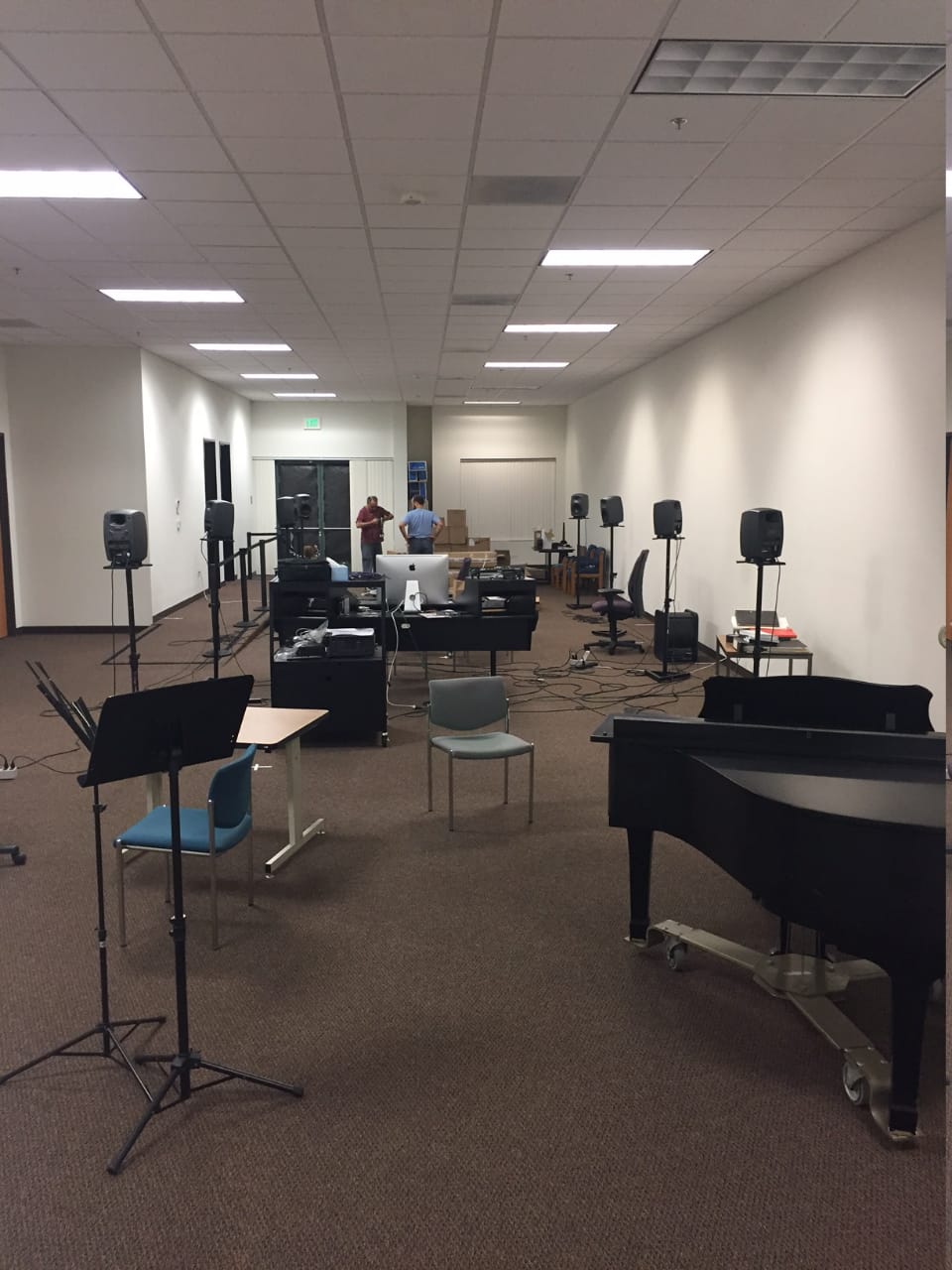 Fall 2015
Piano and Live Electronics
December 12, 2015
Gary Barnett performed a concert featuring music for piano and electronics of composers of the United Kingdom, as well as UCR composition students and faculty. This same concert was performed in Europe the following summer. Composers include Michael Edwards (Scotland), Fergal Dowling (Ireland), Alvaro Eduardo Lopez (UCR doctoral composition), Martin Jaroszewicz (UCR doctoral composition), Liviu Marinescu, and Paulo C. Chagas.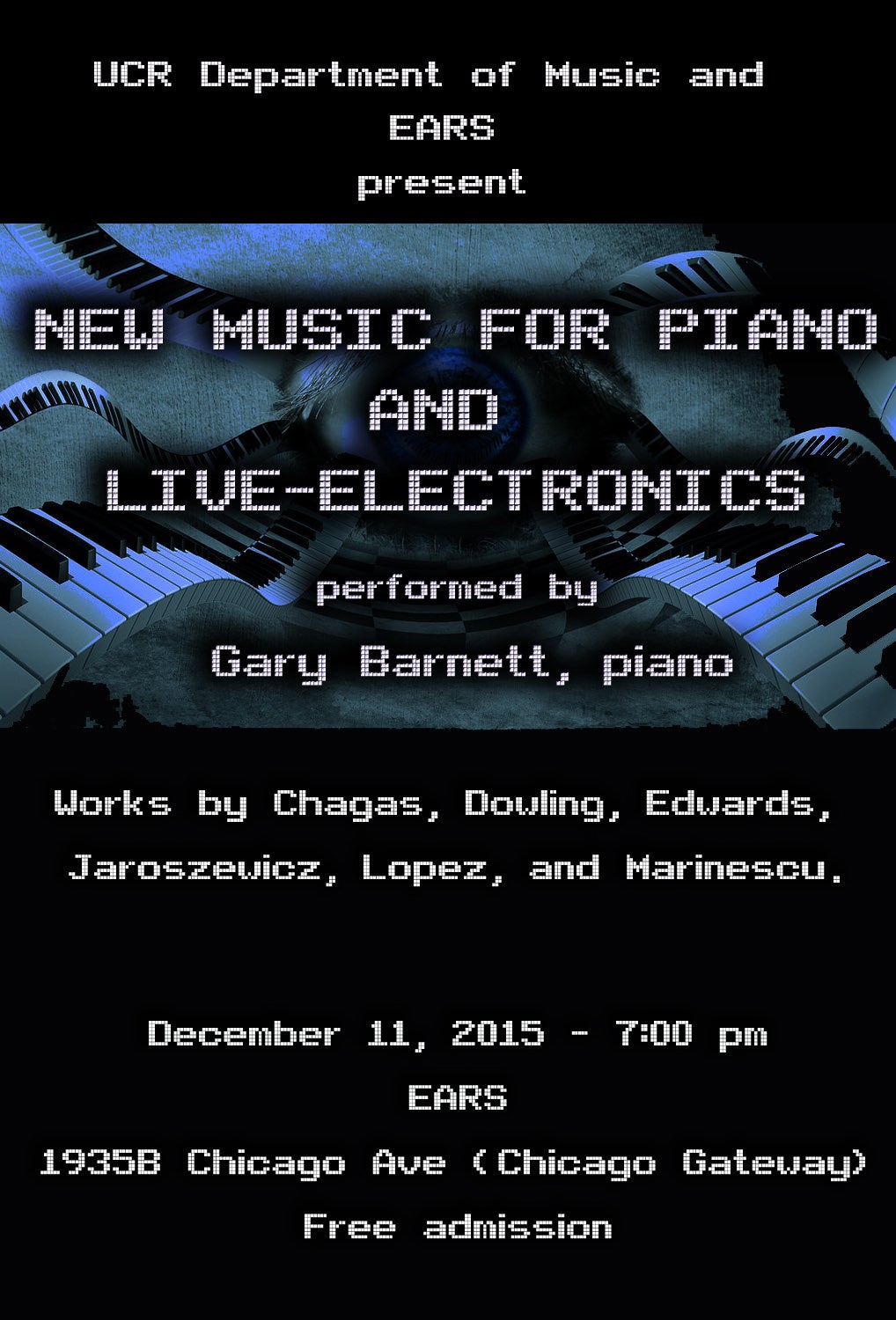 Spring 2014
James Gardner: New Work for Piano and Electronics
May 6, 2014
James Gardner, New Zeeland composer, broadcaster and performer, gave a lecture on his music and the pianist Dzovig Markarian performed the pre-premiere of his composition Displacement Activities for piano and electronics.
James Gardner produced for Radio New Zealand (RNZ) "These Hopeful Machines," a six-part series that traces a personal path through the evolving world of electronic music.
Spring 2014
Piano and Electronics
May 3, 2014
Gary Barnett performed a recital at EARS with both piano solo music and music for piano and tape, piano and interactive electronics, and piano, video and interactive electronics. Composers on the program include Violeta Dinescu (Romania), Mario Davidovsky, Martin Jaroszewicz (UCR doctoral student), Liviu Marinescu, and Paulo C. Chagas. This same recital was performed in Bucharest, Romania, in May of that year for the International Festival of New Music of the National Conservatory of Romania, Bucharest.
Winter 2014
Residence Igor Kefalidis
February 2014
Igor Kefalidis, Professor of Composition at the Moscow Tchaikovsky Conservatory and director of the Moscow Conservatory Center for Electroacoustic Music (CEAMMC), produced a new work for ensemble and electronics. He also discussed his work with graduated students.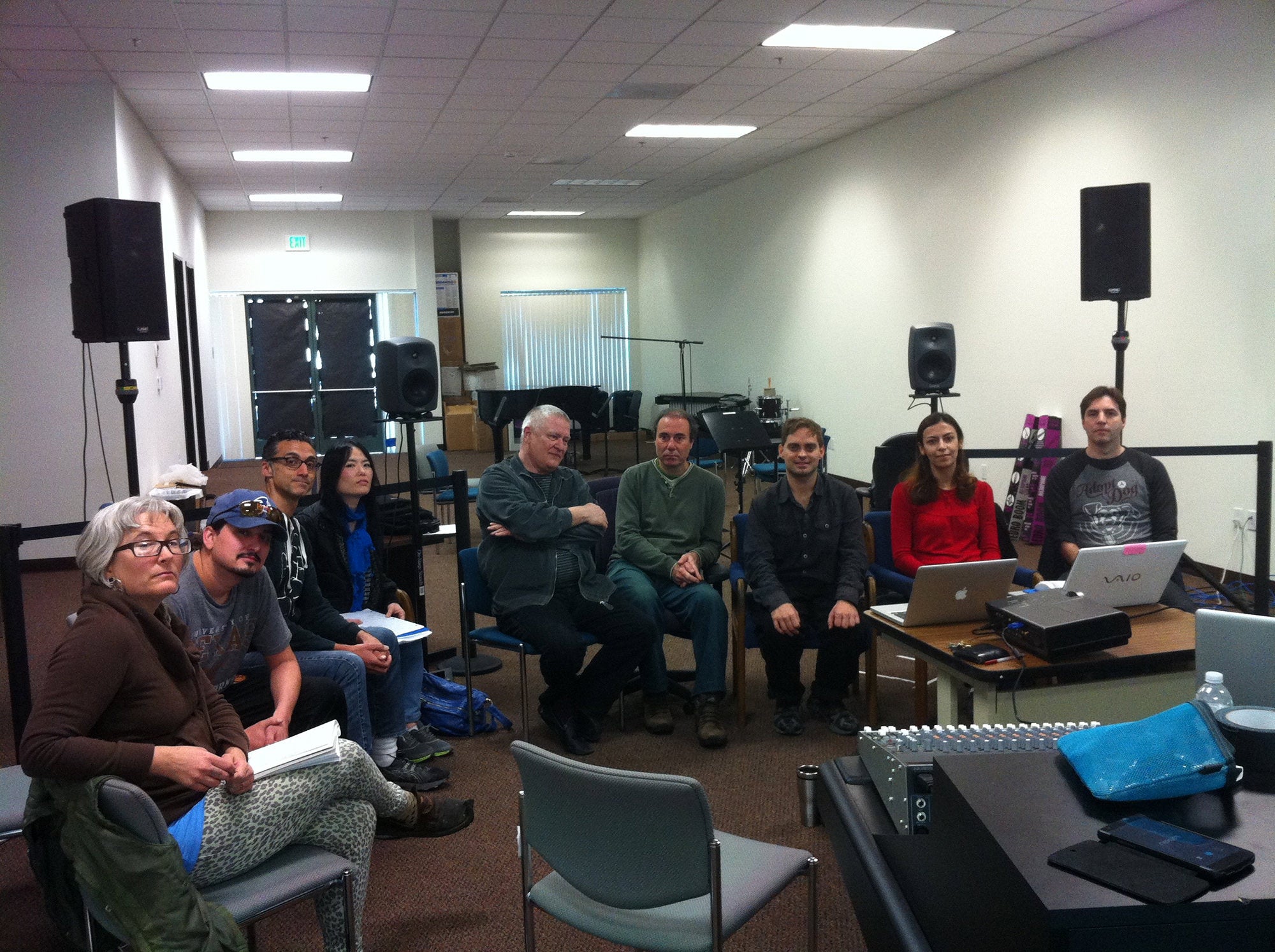 Spring 2011
Residence Luca Forcucci
May 3-5, 2011
Swiss sound artist Luca Forcucci presented his projects and research on sound art focused on sound and perception. The residence included three day workshop for UCR students on sound field recording for soundscape composition. Forcucci also presented the lecture "Perception and Places" Music Department (May 4, 2011, see Project) and concert Bain Waves Music  incollaboration with cellist Michael Kott at the Culver Center of the Arts (May 5, 2011, see Project).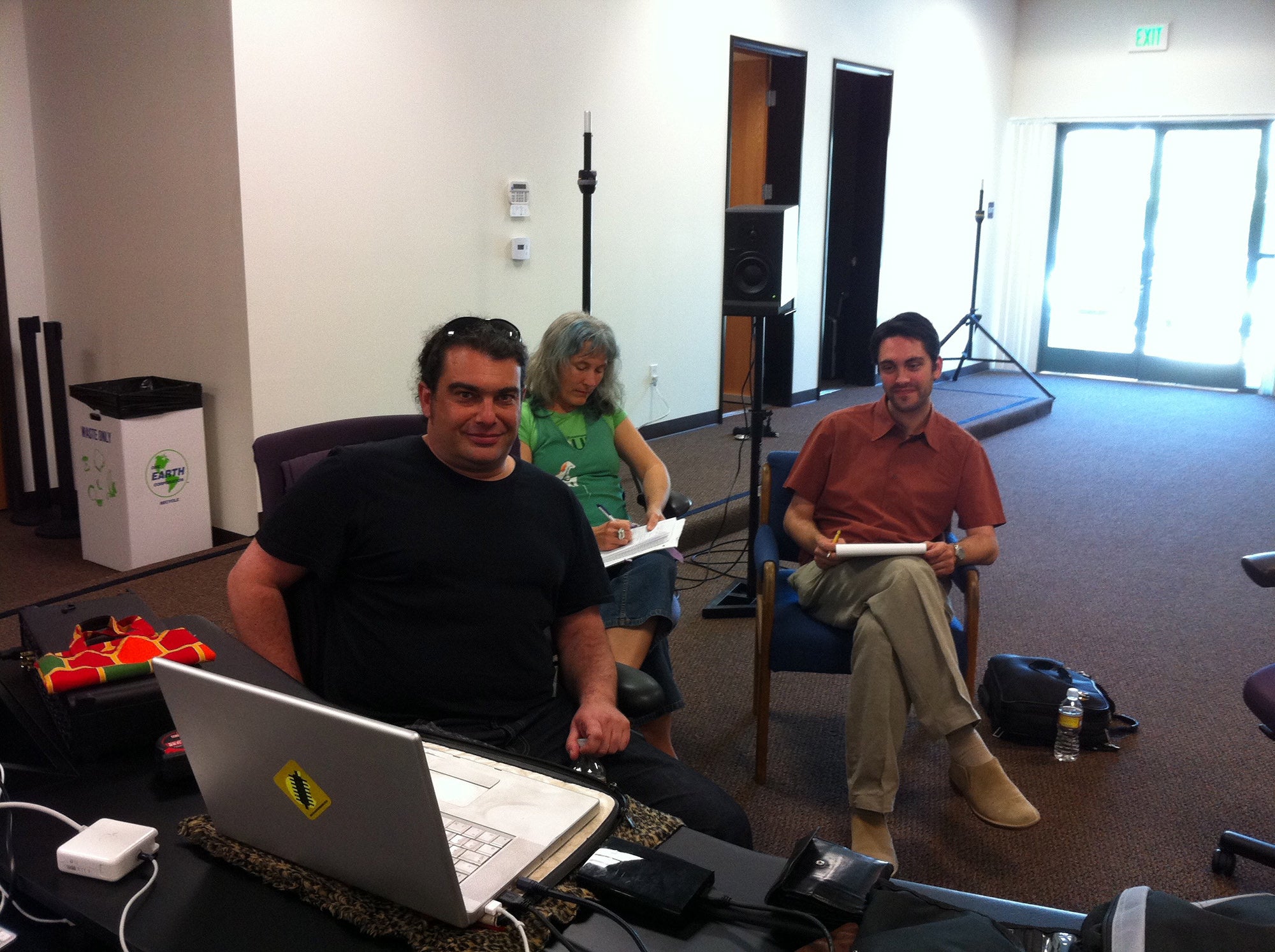 Winter 2010
Iberian and Latin American Electro-Acoustic Music for Piano
Mach 5, 2010
Gary Barnett performed a recital of music for piano and electronics with an emphasis on Latin American composers. The program included compositions of Rodrigo Sigal (Mexico), Arturo Rodas (Ecuador), Roberto Giracello (UCR doctoral student), Joao Pedro Oliveira (Portugal), Francisco Colasanto (Mexico), and Paulo C. Chagas.
Spring 2009
EARS Fund Raising Event and Concert
April 15, 2009
EARS fund raising event and concert at the "Watkins Society Annual Luncheon and Program" in collaboration with UCR Gift Planning. UCR Alumni Center.
Featuring the Eclipse Quartet.
Joel Pargman, violin 1
Sam Fischer, violin 2
Alma Fernandez, viola 
Tina Soule, cello